Ethylene Di Chloride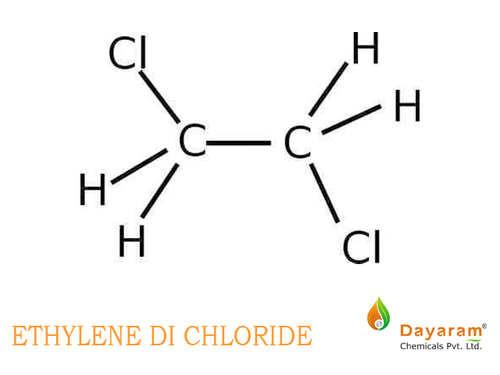 Ethylene Di Chloride
Product Code : EDC
Price And Quantity
Minimum Order Quantity
270 Kilograms
Price
34 INR/Kilograms
Price Range
1.00 - 1.00 INR/Kilograms
Product Specifications
Ph Level
7
EINECS No
203-458-1
Smell
Stimulus
Storage
Room Temperature
Structural Formula
C2H4Cl2
Taste
Sweet
Molecular Weight
98.96 Grams (g)
HS Code
29031500
Molecular Formula
C2H4Cl2
Solubility
very low
Shelf Life
3 Years
Boiling point
83.5 C
Melting Point
-35.5 C
Medicine Name
Ethylene Di Chloride
Chemical Name
1,2-dichloroethane
CAS No
107-06-2
Type
Pharmaceutical Intermediates
Grade
Industrial Grade
Usage
The most common use of 1,2-dichloroethane is in the production of vinyl chloride which is used to make a variety of plastic and vinyl products including polyvinyl chloride (PVC) pipes, furniture and automobile upholstery, wall coverings, housewares, and automobile parts. It is also used to as a solvent and is added to leaded gasoline to remove lead.
Purity(%)
99
Appearance
Clear
Physical Form
Liquid
Ethylene DiChloride
 The chemicalcompound Ethylene Di Chloride, commonly known as 1,2-dichloroethane.It is a colourless liquid with odour. The most common use of 1,2-dichloroethane is in theproduction of vinyl chloride, which is used to make polyvinyl chloride (PVC) pipes, furnitureand automobile upholstery, wall coverings, housewares, and automobile parts
Â
With about 95%of ethylene dichloride (EDC) being used in the manufacture of vinyl chloride monomer (VCM), nearly all of whichgoes into polyvinyl chloride (PVC), EDC supply/demand balancesare influenced by the PVC market. In addition, many EDC plants are integratedwith VCM production.
Â
Other outletsfor EDC are chlorinated solvents such as trichloroethylene, ethylene amines,vinylidene chloride and trichloroethane. It is used as an intermediate in theproduction of perchloroethylene(tetrachloroethylene) and as a catalyst inhexachlorophene production. EDC has been used as a solvent in the textile,metal cleaning and adhesives industries. Solvent markets tend to be mature dueto environmental pressures to reduce emissions and declining in the case ofperchloroethylene.
Â
Â
Specification
Â
Medicine Name:Ethylene Di Chloride                      ChemicalName : 1,2-dichloroethane
Type :Pharmaceutical Grade                                   Grade: Industrial grade
CAS No :107-06-2Â Â Â Â Â Â Â Â Â Â Â Â Â Â Â Â Â Â Â Â Â Â Â Â Â Â Â Â Â Â Â Â Â Â Â Â Â Â Â Â Â Â Â Â Â Â Â Â Â Â HSCode : 29031500
MolecularFormula : C2H4Cl2Â Â Â Â Â Â Â Â Â Â Â Â Â Â Â Â Â Â MolecularWeight : 98.96 grams
Melting Point :-35.5 CÂ Â Â Â Â Â Â Â Â Â Â Â Â Â Â Â Â Â Â Â Â Â Â BoilingPoint: 83.5 C
Smell : Stimulus                                                     Taste: Sweet
Appearance:Clear                                                  Color: Colorless
Storage : RoomTemprature                                     Shelflife : 3 Years
Â
Application
Fuels and fueladditives
Functionalfluids (closed systems)
Intermediates
Laboratorychemicals
Trade Information
FOB Port
Ex. Ankleshwar and Delivered
Supply Ability
1 Kilograms Per Day
Delivery Time
1 Days
Sample Available
Yes
Sample Policy
Contact us for information regarding our sample policy
Packaging Details
270 kg
Main Domestic Market
All India
Contact Details
DAYARAM CHEMICALS PVT. LTD.
Plot No. 5155, G.I.D.C. Estate, Near GEB 66 KV Sub Station, Anklesvar INA - 393002, Gujarat, India
Phone :+918045477906
Fax :91-2646-252199
Ms Silvina (Marketing Executive)
Mobile :918045477906
Quick Services